About Asha Assessment
At Asha Chennai we are now supporting about 100 government schools spread across Tamilnadu. With this kind of scale we felt the need to develop metrics to tell us how our projects are doing and start measuring the impact we are having and fine-tune our actions so as to improve the outcome. Towards this end we started conducting assessments starting with one in late 2014-15.
There are three reasons to conduct assessments:

The children should know where they stand in relation to the knowledge expectation at their grade level, so they can focus on their own weak areas and get better.
The teachers should know where each child is, first to understand areas where the conceptual understanding is lacking for the whole class and where there are specific students who need additional help.
The Government and other Private schools need to understand the levels of the children, so they can prescribe the curriculum appropriately if there are large gaps in expectations and learning outcomes.
Assessments out there
Assessments are almost non-existent in Government schools as of now. There are some cases where some ASER by Pratham is used to conduct them. If there are any others in Government or in private schools, they tend to be corrupt. The teachers and their managers including the educational officers want the assessments to be based on what the students know and not what the students are supposed to have learnt, so they can show padded results to their superiors. There is a large focus at the 10th standard and 12th standard levels to have 100% passing rates and for some students to score very high marks. The school authorities tend to believe that they can achieve these through rote learning better than they can through conceptual understanding which makes it harder for the teachers in the school to focus on learning by understanding. The assessments therefore are creating a problem, rather than helping.
Asha Chennai Assessments
At Asha Chennai We hope to get the following information from the Assessments.
How are our schools performing compared to broader samples of children in the district, state or the country. This is not very relevant for helping us shape our work but it would be useful for donor communication etc. This same information can also be used to compare one school against the average or against another. This will help us focus our efforts and learn from best practices.
Chart the progress of our schools in terms of how they are improving or becoming worse over the years.
Help identify the gaps in the learning. Identify specific areas of weakness that we can then try to address through our training and the materials we give to the schools.
Getting broader statistics on the performance of students in India is difficult. The only India-wide efforts that we were aware of are the ASER conducted by Pratham, and the National Achievement Survey conducted by NCERT. Both of these have some advantages but serious disadvantages as well. This is a major area that needs to be addressed as India continues improving its education system.
Given this scenario, we decided to do two things.

Conduct Oral assessments in line with ASER. This will help us in achieving goals 1 and 2 identified above. i.e. It will enable us to compare the performance of our schools and projects as a whole against broader Tamilnadu and India numbers from ASER. It will also enable us to see how a school is doing compared to other schools. It will further enable us to see the time trends as we conduct over the years.
Design and conduct written assessment that will help us identify gaps in the teaching/learning process. While we do not have the data or skill to develop this thoroughly based on Item Response Theory (as NAS has done), we can certainly map this to the curriculum and assess what areas of the curriculum pose problems for the children.
Learnings from Assessments conducted by Asha:
During our first year of conducting assessments in April 2015 we learnt that conducting assessments in general was not easy as we did not understand the mindset of the teachers and students at the time and it turned out to be a disaster.
We had naively distributed the papers to the schools ahead of the exams. Most of the school teachers had coached the children for this test with the question paper provided! For instance in many schools all the children wrote the same three sentences for a question where we asked the student to write three sentences on a crow. What is even more telling in that often all these sentences had the same mistake! This totally defeated the purpose of our test.
Children were not used to writing 3 hours of test. For 4th and 5th standard, our tests were 1.5 hours long for each paper.
Written assessments for 1st and 2nd standards didn't make any sense as the language abilities of the children didn't make it possible for them to understand the question and write the answers.
We therefore changed the pattern for the tests conducted in subsequent years. We decided we should occupy no more than 1 hour time for each class. Therefore we had significantly shorter tests. We decided to have oral tests for class 1 and class 2 – English. We had written tests in Maths for classes 2 to 5 and in English for classes 3 to 5. To ensure consistency and that the tests are conducted properly, the same set of teachers travelled to each school and conducted the tests, one day per school. The papers were taken to the school only on the day of test and we did not allow the teachers from the school (Asha teachers or govt. teachers) into the room where the tests were being conducted.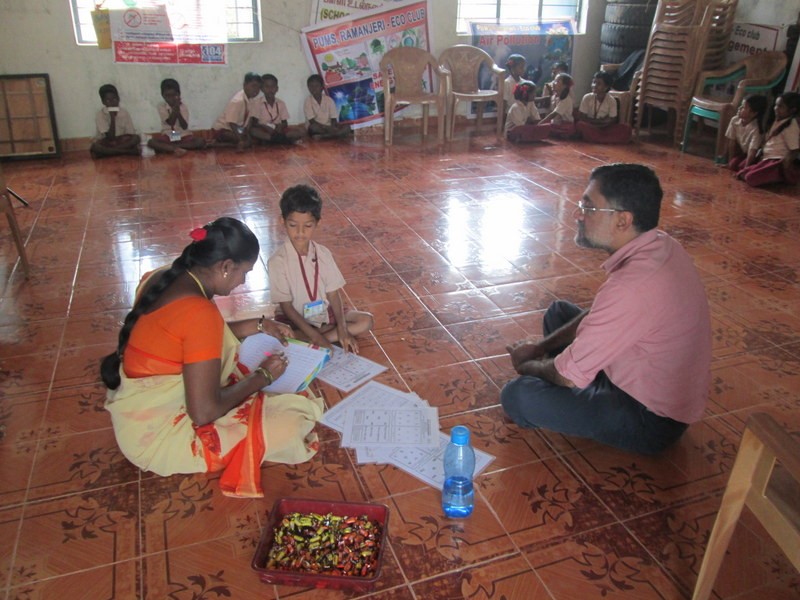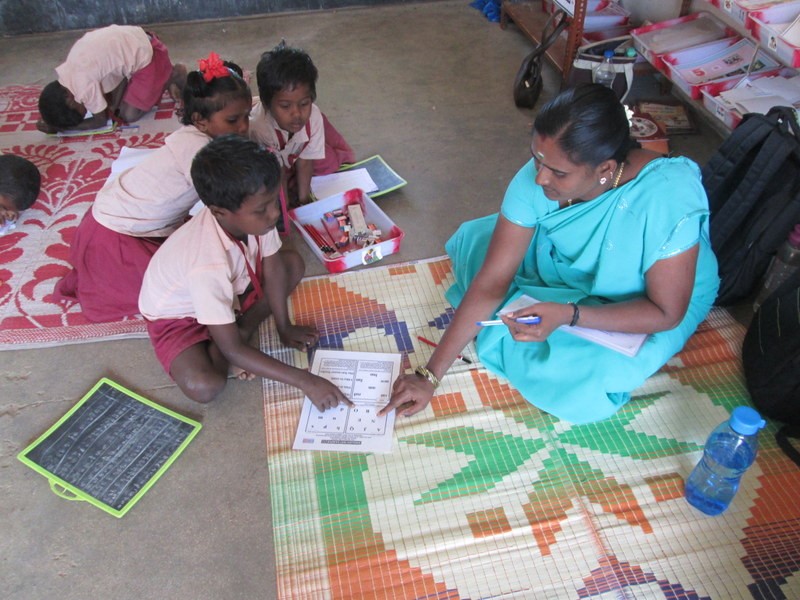 Data Analysis
We have been working on analyzing the data we get from these assessments to get a broader understanding of how our children are performing. The initial work involved getting some basic correlation of the students' performance against some school level data we could get from DISE (see schoolreportcards.in to get an idea of the data that is available). In 2018-19 we also collected social data about the students, including whether they attended KG or Balwadi or neither, the education level of the parents, their height weight and DOB etc.
From May to July, 3 interns at IIT Madras were guided by Prof. Ramkumar at the education and technology dept at IIT Bombay worked on this data. One paper is coming from the effort correlating the oral assessment scores against the student level details. We will continue to work towards getting more useful data from these scores to see what factors are more valuable in predicting the performance of the students.
In 2019-20, we will also collect a lot more data like student attendance, continuity of education etc. Our hope is to eventually provide some meaningful inputs for policy makers so that the educational outcomes can be influenced and interventions studied meaningfully.